AUTHOR PORTRAITURE

I am pleased to be offering my photography services to authors and publishers. I believe that writers deserve beautiful and professional portraits that authentically represent them and their work. I'm excited to apply my portrait experience to capturing an essence or spirit of a writer and portraying each writer with timeless and yet contemporary images.

I'll be bringing:
~ a sensitivity and ernest interest in people
~ a belief in using a natural environment
~ my relaxed pace and calm process
~ use of natural lighting when possible

My first author's portrait was of SARK, taken in 1997. It was a great honor, particularly as it was the first time a present-day author photo was to be seen on one of her books. That book was "Succulent Wild Women" and it became a best-seller.

I had found and treasured SARK's book "A Creative Companion ~ how to free your creative spirit", published in 1991. Her popular poster "How to be an Artist" is printed on the first page. Knowing the phrase "learn to watch snails", I knew I wanted to photograph SARK watching a snail. Our session together was filled with serendipidous happenings.

capturing an essence of the writer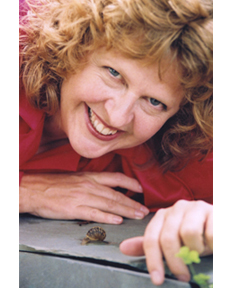 Book portrait of SARK watching a snail
for her bestselling "Succulent Wild Woman"

"Karen's photographs are luminous,
powerfull and truly timeless.
I recommend her, and her work."

SARK author/artist / www.planetsark.com
STAY LOOSE. LEARN TO WATCH SNAILS. PLANT IMPOSSIBLE GARDENS. INVITE SOMEONE DANGEROUS TO TEA. MAKE LITTLE SIGNS THAT SAY YES! AND POST THEM ALL OVER YOUR HOUSE. MAKE FRIENDS WITH FREEDOM & UNCERTAINTY. LOOK FORWARD TO DREAMS. CRY DURING MOVIES. SWING AS HIGH AS YOU CAN ON A SWINGSET, BY MOONLIGHT. CULTIVATE MOODS. REFUSE TO 'BE RESPONSIBLE'. DO IT FOR LOVE. TAKE LOTS OF NAPS. GIVE MONEY AWAY. DO IT NOW. THE MONEY WILL FOLLOW. BELIEVE IN MAGIC. LAUGH A LOT. CELEBRATE EVERY GORGEOUS MOMENT. TAKE MOONBATHS. HAVE WILD IMAGININGS, TRANSFORMATIVE DREAMS, AND PERFECT CALM. DRAW ON THE WALLS. READ EVERYDAY. IMAGINE YOURSELF MAGIC. GIGGLE WITH CHILDREN. LISTEN TO OLD PEOPLE. OPEN UP. DIVE IN. BE FREE. BLESS YOURSELF. DRIVE AWAY FEAR. PLAY WITH EVERYTHING. ENTERTAIN YOUR INNER CHILD. YOU ARE INNOCENT. BUILD A FORT WITH BLANKETS. GET WET. HUG TREES. WRITE LOVE LETTERS.

copyright © 1989 SARK