custom gold-leaf frame
with inked newborn footprints




custom wood framing
& museum matting:
available in a variety of depths



{click on products to see more details}
Fine presentation options are available to protect images and offer various ways to enjoy your photographs: fabric albums and boxes, felt bags, archival matting and custom framing.
Over the years, the way in which our photographs have been stored and protected has changed a lot. Today, photo prints are so ubiquitious that little attention is given to their preservation and storage. This is especially true in the digital age. Click on the preservation button above to learn about caring for your photos.

Hinged cases were used in the 1840s and 1850s for the safekeeping and display of daguerrotypoes or ambrotypes which were vunerable to tarnishing and ambrasion. Tintypes were sometimes protected the same way, but more often in a simple card window mat.

Albums made of stiff boards became popular when professional studios began mounting their photographs on cards, such as Carte-de-Visite and Cabinet Cards.

Later, prints were often placed in albums with black paper pages using photo corners of gummed hinges. These kind of albums are still an excellent way to present and to store precious photographs.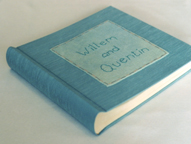 baby albums made to order:
albums in beautiful, subtle colors





hand-made album bags:
made with plant-dyed wool felt