John Guard Finch (George Finch Leicester) was born in Barnstaple, Devon, 20th October 1844. His parents were William Harman Finch (bapt 29 March 1818 Pilton - 27 December 1871 Newport, Monmouthshire Tiverton) and Fanny Seward (b 1817/18 in Tiverton to Richard Seward and Ann Melhuish).Pilton is a suburb of Barnstaple, about half a mile north on the outskirts of Barnstaple.George was the oldest of his siblings (b.1844): Ann Eliza (b. 1846/7), Emily Jane (b. 1855/6), Edith Ellen (b.1854/5), Elizabeth Alice (b.1859/60), Fanny Seward (b.1861/2), Judith Florence (b. 1862/3), Tom Clifford (b. 1868/9). His father is listed as a timber merchant of Barnstaple, Devon in 1843 and an accountant in Newport, Monmouthshire in 1871.

Fanny Dorothea Southbeer was born 21st December 1845, in Lambeth in London or Southwark, Surrey. Her birth seems to have been registered in early 1846 at St George, Southwark using the name Fanny Dorothy Southbeer. The 1881 British Census lists her birth place as Lambeth, Surrey. Her parents were John and Eliza Southbeer and Fanny was their fifth child.
Her siblings were Eliza, John, Margaret, Clara, and Walter.

(Above census information researched and shared by Anthony Barrier of Alkham, Kent, England.)

Fanny and George were both in the entertainment industry. John Guard Finch was a comedian and an actor, and used a professional stage name of George Finch Leicester and seems to have mostly called himself George. Fanny was an actress.

Fanny Leicester (née Southbeer)
Fanny and George married 1st November 1865 at St Mary's Church in Oldham, Lancashire. The marriage is listed under the name "John George Guard Finch". (George Finch Leicester's/ John Guard Finch's mother was also called Fanny so it makes it a little confusing!)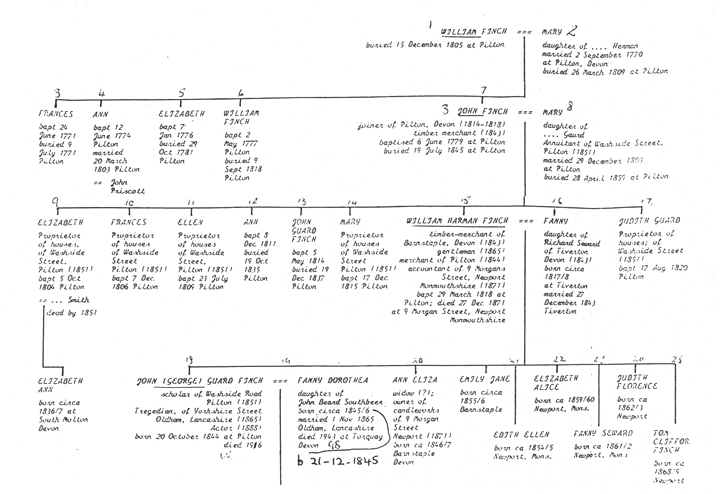 Finch Family Tree typed by Auntie Freda, showing the marriage of John Finch to Fanny Southbeer
At the time of the 1881 British Census, Fanny and George lived with Fanny's parents (JB Johnstone age 78 and Eliza age 66) and their children at 36 Lambeth Road, St George, Southwark, Surrey. It lists Fanny (age 29) and George F. Leicester (34) as having three children at that time: William (age 13) and two younger sisters called Hellen (age 11) and Eliza (age 6). It says that William was born in Lambeth but Hellen was born in Lancashire and Eliza in Yorkshire.

MIss Fanny Johnstone and Mr Geo F. Leicester
(?and Little Lilie Leicester?) performing in Paisley for six night at Abercorn Theatre in March 1883.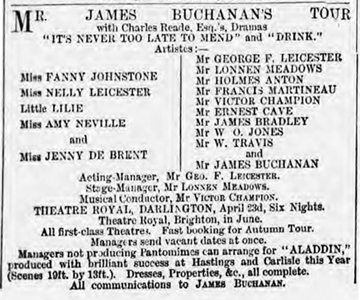 Fanny Johnstone at Theatre Royal in Darlington, April 1883
Her husband is performing and also the Acting Manager.
New Prince of Wales Theatre in Greenwich, May 1889
Miss Fanny Johnstone is Mrs Kidger and Mr George F. Leicester is the Squire.


By the time of the 1901 British Census, Fanny and George lived at 26 Reedsworth Street, Lambeth, London. George was fifty-five and Fanny was fifty-three. Fanny is listed as being an actress.
This is from the 1911 census showing George F Leicester and Fanny Leicester.
It lists 40 as the number of years married, and 5 children born and 4 children still alive.
At the time of the 1911 census, Fanny (62) and George (64) were staying as visitors at the home of Harry Wrigley of 100 King Street, Southport. They are listed as George F Leicester and Fanny Leicester. Fanny's age is incorrect - she was 65 rather than 62 - apparently lying about age on the census was very common. Their occupations are listed as Actor and Actress - Music Hall Artiste. It reveals that they had four children as well as one child who died.

George died 23rd June 1916, aged seventy-two, before any of his Aldous great grandchildren had been born. (see obituary of actors below)

The Stage Year Book 1917 under the obituaries George F Leicester is listed with a date 23rd June (1916)
(kindly found by Anthony Barrier)
Fanny lived a very long life and knew all seven of her Aldous great grandchildren. Since her husband was born in Devon, it is interesting that she moved to Devon. Fanny lived on Old Mill Road, Torquay, Devon, when she wrote a birthday note to her great grand-daughter Freda Aldous, who turned twenty-one in 1940.

Fanny died in 1943 in Torquay, Devon.
Letter to Freda from Fanny on the occasion of her 21st birthday:

Dear Freda,
All the sincere wishes you will receive
None will be more sincere than 94 to 21
Many Happy returns of the
Day and many more, very many more.
God bless you - dear
With very dear love -
From Your Great Grandma