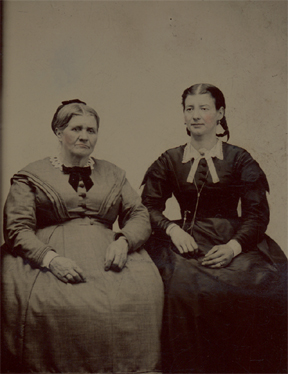 Caroline Aldous (on the left of this tintype)
b. 1826
chr. 19 March 1826 in Eye, Suffolk
d. 11 May 1889 in Tintwistle, Cheshire

Caroline Aldous was born in 1826 in Eye, Suffolk to John and Sarah Aldous. She was christened in Eye 19th March 1826. Caroline had three sisters: Maria, Jane, and Mary Aldous.

By the time Caroline was eight, both her parents had died. She was looked after by an Uncle (who already had a large family) and his second wife. When Caroline was ten, the family migrated to the north (Waterside, Glossop) apparently looking for work. They settled in the Hadfield district and Caroline was put to work in a mill.

Year in, year out, this probably became too much for her and an opportunity came for her to run away to London, perhaps about 1850. Here, in Stepney, Middlesex, a son George was born to her in 1852, and another one, John William in 1853 and then Frederick in 1855. Caroline had three sons within four years but never married.

Since Caroline never married, she kept her maiden name and the name Aldous continued. The father listed on her son Frederick's birth certificate is Charles Bartrop and Caroline used the name Caroline Bartrop on the certificate. Her address is stated on this birth certificate in 1855 as: 23 Canal Terrace, York Road, Islington.

It is thought that Bartrop soon deserted Caroline, and she asked for assistance from what was then the forerunner of social services. They found out that she had come from Hadfield and promptly sent her and her boys back there. Here, she was received kindly and it was here, and at this time, that she came to the Independent Chapel in Tintwistle and its sister chapel in Padfield. Here, her boys were baptised and to this very day there are descendants of those boys still worshipping in those chapels.

(The above information is as told to me by Auntie Freda)

Tintwistle is situated on the River Etherow and it was a mill village. It is just north of Glossop, at the lower end of the Longdendale valley.

At the time of the Hadfield Padfield 1861 Census (near Glossop), Caroline was 34 years old and worked at a cotton mill as a cotton winder. George is listed as a sweeper although he was only nine years old, John William was eight and went to school, and Frederick was five.
The Padfield 1871 Census says that Caroline (age 43) was living with her sons, George (20), John (18) and Fred (15). Caroline was working in the cotton mills as a cotton heald drawer. George was a cotton piecer. John was a laborer. Fred was a cotton cap packer.
Twenty years later, the 1881 British Census shows Caroline as being fifty-five and living on Saltersbrook Road, Tintwistle, Cheshire. On the day of the census, there were five other people in the household: her son Fred (age twenty-five), her son John W (age twenty-seven), and Elizabeth Aldous (age twenty-five) who was her daughter-in-law and called Lizzie for short, and their two sons,Walter (eighteen months old) and William (two months old).

Caroline's third son, Frederick , is my great grandfather. He married Alice Ann Hirst on 5th February 1882 and had six children. His third child is my grandfather.

Caroline lived long enough to see her three sons established in work, married, and with families. She died 11th May 1889, aged 62, and was buried at Tintwistle.