Mary Shaw
b. 1827
Meltham, Yorkshire


David Hirst
b. 1825
Barnsley, Yorkshire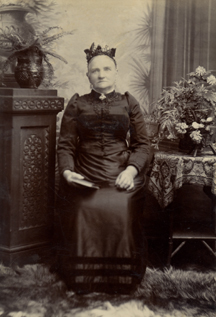 Mary Hirst (née Shaw)
b.1827? (found in 1881 census)
Meltham / Almondbury, Yorkshire

Mary Shaw was born in 1827 in Meltham/Almondbury, Yorkshire to Jonathan and Mary Shaw. She was one of six daughters.

David Hirst was born in 1825 in Barnsley, Yorkshire to Mr and Mrs Hirst. (Note: In the 1861 census it says David Hirst was born in Holmfirth, Yorkshire.)

Mary Shaw and David Hirst married in the 1840s sometime, as their daughter was four in 1851.

Mary and David Hirsts' seven daughters were Mariah, Emma Jane, Rachel, Alice Ann, Mary Ellen, Elizabeth Ann/Henrietta
.
Alice Ann Hirst, was born in Glossop, Derbyshire, on 14th April 1856. She was later to become Alice Ann Aldous.

By the 1851 census, Mary (24) is married and is called Mary Hirst and is a winder in the cotton mills. Her husband is David Hirst (26) and is a weaver. Mary and David's daughters are Mariah Hirst (4) and Emma Jane Hirst (6 weeks old). It says that their daughters were born in Derby, Yorkshire? They are living in Hadfield with Mary's parents - Jonathan (52) and Mary Shaw (48). Jonathan was still a mason but the rest of the family were working in the local cotton mills. Mary's siblings living there are Elizabeth Shaw (22) was now a winder, Martha Ann Shaw (15) is a weaver, Jane Shaw (13) is also a weaver, Alice Shaw (8) is a scholar.

David (36) and Mary (34) Hirst were in Glossop at the time of the 1861 census. David was a cotton weaver and Mary was working as a House Keeper. Their children were all daughters and born in Padfield, Derbyshire: Mariah (14), Emma Jane (10), Rachel (7), Alice Ann (4), Mary Ellen (2), Elizabeth Ann (4 days). Mariah is already working in the cotton mills as a cotton weaver. Emma Jane was a ?tenter?
By the 1871 census, David (46) and Mary (44) Hirst are living in the parish of Padfield in Glossop. David is a laborer and Mary is a housekeeper, Five daughters are living with them: Emma Jane (20), Rachel Hirst (17,) Alice Ann (14), Mary Ellen Hirst (12), Henrietta Hirst (10) are all cotton weavers. It says that Emma Jane was born in Hadfield and Rachel, Alice Ann, Mary Ellen and Henrietta were all born in Bosscroft, Derbyshire (a village just outside of Glossop).

It says on the 1881 British Census that Mary (54) & David (56) Hirst lived at 3 Cemetry Road, Glossop Dale, Derbyshire with their daughters Alice Ann (24) and Henrietta (20). David Hirst is listed as a farmer. Alice Ann is a cotton weaver. Henrietta Hirst (born in Glossop) is a dress maker. An adopted daughter called Alice Horrocks (6) was living with them. Alice was six years old and was born in Ashton, Lancashire. Their daughter, Mary Ellen Hirst (22) is living with them along with her son, Arthur Lyne (age 1).

In 1882, Alice Ann Hirst married (at age twenty-five) into the Aldous family when she married Frederick Aldous. Alice Ann was a weaver at the time of her marriage.

Their daughter Emma Jane Hirst married John Charles Rowbottom in 1879 in Hayfield, Derbyshire. In the 1881 census, Emma Jane and John Charles Rowbottom were living on Derby Street, Derbyshire. Charles was born in Ludworth, Derbyshire and he was working as a stone mason. Their household lists a six year old (Ruth Eliza Rowbottom) and their daughter (age one) Clara Rowbottom born in 1880. (John Charles Rowbottom had married Hannah who died at age 30 in 1878 in Hayfield and Ruth Eliza was probably their daughter.) By the 1891 census, John was a widower. He had five children (four daughters and one son) living with him at 22 Derby Street in Glossop: Ruth Eliza (16), Clara (11), Pollie (9), Ethel (7), Hirst (6). Ruth Eliza is a cotton weaver. the other children are at school. An Emma Jane Rowbottom died in 1889 in Hayfield, at age 38. By the 1901 census, John is age 52 and still is living in Glossop and has his five children living with him: Ruth Eliza (26), Clara (21), Pollie (19), Ethel (18), Hurst (16). It says all the girls are cotton weavers except for Ruth Eliza. Hurst is listed as being a House Painter. By 1911, the two youngest children are living together as their father died in 1909 - Hirst Rowbottom (26) is single and living with his sister, Ethel Rowbottom (28) who is also single. He is a House Painter and she is a Housekeeper at home. They live in a home with four rooms, at 101 Gladstone Street, Glossop, with Hirst's nephew, John Rowbottom (9). It says they were all born in Whitfield, Derbyshire.

By the time of the 1901 Census, Mary Ellen Hirst (42) was married to Charles Henry Lyne (41) and they were living with six children at 33 Hadfield Road, Derbyshire and with her mother, Mary Hirst (73), who is listed on the same household census. The children of Mary Ellen and Charles Lyne are listed as: Arthur Lyne (21), Jane Lyne (19), Ernest (18), Polly Lyne (12), Fred Lyne (4), Minnie Lyne (3).

Arthur Lyne was born in Tintwistle, Cheshire, like his father, Charles Lyne. All the other children were born in Hadfield, Derbyshire, like their mother, Mary Ellen Lyne.

At the time of the 1911 census, Mary Ellen Lyne (age 52) was the head of the household as she was a widow. Their address had changed to 13 Church Street, Hadfield. The house had five rooms including the kitchen. Five of their children are listed as living there: Arthur Lyne (age 31), Jane Lyne (age 29), Polly Lyne (age 22), Fred Lyne (age 17), Minnie Lyne (age 13). All the children were working as cotton weavers.

LYNE HOUSEHOLD 1911 CENSUS FORM (cropped)
Henrietta Hirst married Leopold Linney and they moved to the United States. Their marriage is listed as taking place in 1882 in Hayfield, Derbyshire. They had at least two sons, one of them being John Linney.

There is a 1871 census listing for Elizabeth Linney (50) and her eight-year-old son Leopold H Linney. It says that they were both living in Glossop and that Leopold was born in Glossop. It says that Leopold's mother was a grocer. They had a lodger, Lee Shaw (41) born in Hayfield and he was working as an iron moulder.