John Arthur Aldous (Jack) was born 2nd August 1921, the eldest son of Addie and Fred. From what his Mum said, Jack must have been a lively baby. The Aldous family lived at Woodbourne Road, New Mills, when Jack was born.

Jack went to school at Miss Bateman's in Chapel-en-le-Frith and then to Buxton College.
Before the war, Jack went to Secretarial College. Then at age fifteen or sixteen, he started worked in the family business, Fred Aldous, at the Arches and in the packing room. Jack says that his father thought Jack would do more good at work than going to school.

Jack met Joan Drabble at Badminton Club progressing to church. Joan was born 8th June 1920 in Buxton where she also grew up. Her parents had four daughters Molly, Olive, Joan, and Dorothy who all went to church where Jack was attending. Jack knew Alf who worked in Manchester and would also take the Buxton to Manchester train.

They met around the time that Jack's mother had just had a baby girl, Rosalind. His new baby sister was a good topic for conversation. They took baby Ros out in her pram together. When Joan first knew Jack's mother, she told Joan that she thought babies were wonderful until she had Jack!

Jack and Joan did some of their courting in his darkroom which he had set up at 7 Spencer Road. He says it was a "good place for snogging!" He did his own processing and printing before he was called up for the war. He made his own enlarger from an old camera. After the war, he sold his equipment to someone in Upper Buxton.

It was in 1941, during World War II, that Jack joined the Army. He sailed on the Ben My Chree (a Manx boat) from Newhaven in England to Mulberry Harbour and the Normandy beaches.
John Arthur Aldous (Jack)
b. 2 August 1921
New Mills, Derbyshire
d. 4 November 2011
Lytham, Lancashire

Margaret Joan Drabble (Joan)
b. 8 June 1920
Buxton, Derbyshire
d. 5 July 2012
Blackpool, Lancashire

BACK ROW: Freda, Olive Drabble, Alan, Fred Aldous, Fred Drabble, Chris, Dorothy Drabble, Molly Drabble, Dot
FRONT ROW: Addie Aldous, Ros, Jack, Joan, Florrie Drabble (Flo)

Jack married Joan on 26th September 1942 at St. Mary's in Buxton, just down the road from the Drabble household. Jack wore his army uniform. Joan had a huge bouquet of carnations. Dot, Ros (Jack's sisters), Olive and Dorothy (Joan's sisters) were bridesmaids. A super parson married them and it was a sunny day. They had a great honeymoon for a week in Wales - they went on a puffer to Llandudno.
For a short time after their wedding, Jack and Joan lived at home with Jack's family at Oaklands, before moving to a bungalow in Jodrell Road.
Jack and Joan walking on honeymoon in Llandudno.
1942

Their first son, John, was born 8th December 1943 in Buxton, while Jack was away. He came home on leave in March 1944. He crossed the English Channel soon after D-Day in June 1944.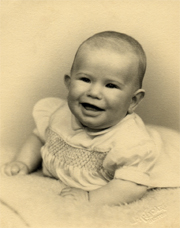 John Frederick Aldous
b. 8 December 1943
Buxton, Derbyshire

married 9 Dec 1978

Patricia Mason
b. 7 Dec 1946
d. 8 April 2018

Two children:
Ben Michael b. 1981
Kate Joan b. 1983


In September 1944, Joan received official notification that Jack, who had been serving in the North West Europe theatre of war, had been missing from his regiment since 22nd of that month. The notification also contained the encouraging news that he was believed to be a prisoner. Their son, John, was ten months old at this time.
Jack had swam across Escaut Canal under sniper fire with a message. For his bravery, Jack won the Military Medal. Four days later, Jack was taken prisoner of war by the Germans in September 1944. Their staple diet, Jack remembers, was beet soup (this was what was left after the sugar had been extracted from the beets). On a good day, they were given a tin of bully beef to share between seven of them, and a loaf which had to be split between ten men.
He was first taken to a POW (Prisoner of War) camp at a castle in Luneburg, Germany (south of Hamburg). Here, Jack did a spot of solitary confinement, interrupted by interrogations in the middle of the night. Later, he went to a camp at Sagan (near Breslau) and was afterwards forced to march 375 miles to a camp near Cassel. It was from this camp that Corporal Jack was liberated by the Americans on Easter Monday 1945.
On Friday 13th April, his sister, Dot, and his Dad were at Oaklands' gate when Jack came walking down the road to the bottom of Hockley Lane. Jack called out, "Where's Joan?" Jack's parents had just been visiting his brother, Alan, at a the hospital in Leeds and so had not been home long when Jack arrived home unexpectedly, at 8 o'clock on Friday 13th April 1945, nearly six months after he had been reported missing. The family had not heard that Jack had been set free. Jack's telegrams to Joan had not been received. Jack had gone to his house in Whaley Bridge and found she wasn't home and so he went over to his parents' home. What a wonderful surprise to have Jack safely home! The family was very proud of Jack.
Jack and Joan rented their first house from Jack's sister, Freda, on Jodrell Road in Whaley Bridge for 12/6 per week! In about 1945, they bought a house "Oak Mount" on Whaley Lane in Whaley Bridge.
Jack and Joan's second son Michael was born 24th March 1946 in Buxton.
They moved two doors down to "Braemar" in 1947. Jack's father had bought "Braemar" for his home but when he could not sell his present home "Oaklands", he decided to offer it to Jack and Joan. A friend and neighbour, Jack Coverley, had a win on the Football Pools which enabled the Coverley family to buy "Oak Mount" from Jack and Joan. This in turn enabled Jack and Joan to buy "Braemar" from Jack's father. Here, they lived next door to Jack's brother and sister-in-law, David and Marjorie.

Jack had started working at Fred Aldous Ltd. before the war, and he returned following his demobilization, probably in 1947. During this time, Fred Aldous Ltd was located at Nicolas Croft and Withy Grove in Manchester.

Jack was a long distance runner and would go out cross country running for about 3-5 miles about four or five times a week. He'd come home after work and have a raw egg in milk and then go running.

Once, when Aunt Ethel had invited them over to her house, they came in and found her painting the ceiling with a picture. She was lying on her back on a plank with scaffolding! She was a creative artist. She decided to do things when she had the whim to do it,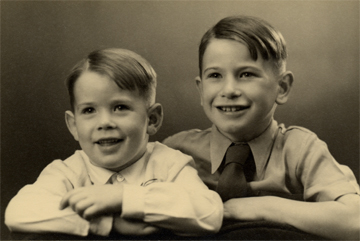 Michael & John Aldous
Taken in about 1951

After working at Fred Aldous Ltd., Jack started his own business "Atlas Handicrafts" at Spring Alley in 1960. His sister, Dorothy, was his secretary for a few years.

Jack took 8mm cine moving film of Dorothy and Peter's wedding.

Joan drove Fred and Addie to visit their children (Chris, Dot and Ros) at Ackworth. Fred and Addie didn't drive. Fred had once had a motorbike but after an accident on it, he didn't ride and didn't allow any of his boys to have a motor bike.
In 1967, Jack and Joan moved from Whaley Bridge to Lytham St. Annes, Lancashire, when Atlas Crafts was about to move to Preston. The warehouse was demolished in Manchester because it was a compulsory purchase so that the Arndale Centre could be built. Preston seemed to be a good alternative warehouse location for the wholesale and manufacturing of Atlas Crafts.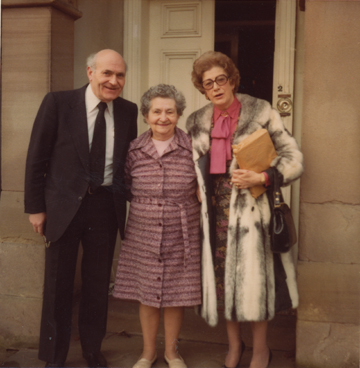 Jack, Addie, Joan by the front door of Limehurst, 2 Manchester Road, Buxton
10th March 1973
Jack travelled to Germany to visit the company that produced split cane. The cane was like weeds that went up trees. The German equipment was made just for splitting up the cane. He also went to Japan, Armenia, and Cananda for fairs once a year.

Jack and Joan lived at 9 Sevile Court in Lythan St Annes from about 1982 to 1992. They moved to 1 Hallstone in about 1992 where they had their Golden Wedding anniversary celebration. Trevor flew (egged on by his brother-in-law Peter) them in a little plane over their house while the guests were outside looking up and waving at them.

Jack and Joan lived in a ground floor flat in Lytham St Annes, on Clifton Drive, near Blackpool, until Jack passed on in November 2011 and Joan passed on in July 2012.

Michael and Ingrid have an ebay business selling and shipping handicraft products - includijjng to USA and Australia. Their daughter, Sarah,sells greeting cards as a rep for a company and Fred Aldous Ltd is one of her clients.

Olive's son (Andrew) lives in Danville, California, 94526.