Adelaide Phyllis Finch Leicester was born in 1896. She was called Addie by her family. She was the fifth of ten children born to William and Lily. She had three sisters and six brothers.

Addie was brought up in London. Addie played tennis on Wimbledon Common and rode her bicycle in the streets of London. She would talk about riding under horse's heads. Her family moved to Manchester when she was about thirteen. They lived at 33 Barton Street, Moss Side, Manchester.

Addie was employed as a secretary and in the course of her work she did typing for the famous writer, G.K Chesterton. She smiled at people from the window where she worked and made them happy. She always had a lovely smile.
Frederick Aldous II was born 14th November 1889 at 10 Park Avenue, Manchester to Alice Ann and Fred Aldous. He was named after his father. Fred was the third of six children. Fred had one brother, Frank, and four sisters, Annie, Ethel, Carrie, and Alice. He and his family always lived in the Manchester area. He moved house with his family six times; in 1891, 1896, 1900, 1901, 1904 and 1908.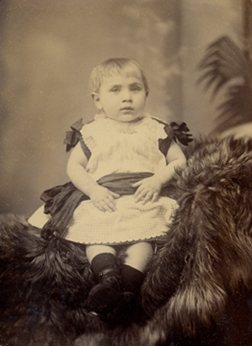 Fred Aldous
Age 2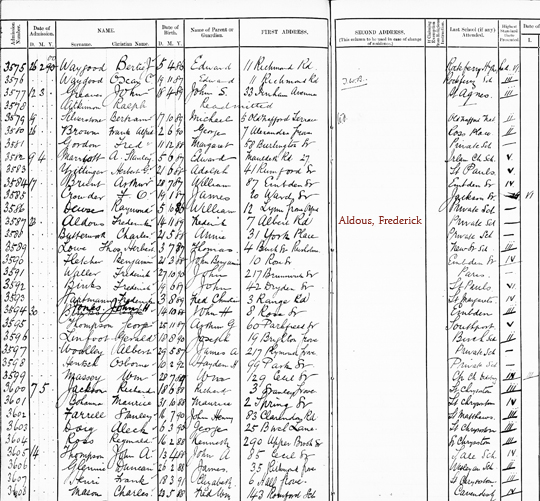 Manchester School Admissions Registers - Ducie School - admission year 1892 (start year 1892 and end year 1901)
It states Aldous, Frederick date of birth 14th November 89 (name of parent Frederick) lived at 7 Albert Road and last attended a private school.

Fred attended Ducie Avenue School. For a few months in 1902, after his music lesson on Saturday mornings, Fred went to the office at his father's business, Fred Aldous Ltd., to file the week's letters. At the end of the summer term 1902, at Ducie Avenue School, instead of going to Manchester Grammar School as his mother had wished, he started to work for his father as an errand boy for wages of 2s. 6d per week. He made deliveries in Manchester and so he got to know the streets very well.
Fred fought in World War I. He rode a horse, gaining training at Cambridge. In early 1915, Fred joined the 19th Royal Fusiliers and was in service in the same year in France and Belgium. He later obtained a commission in the Machine Gun Corp. Fred came home, as a Lance Corporal, on leave from France to obtain a commission.He arrived at 2am, and heard that his brother Frank was having a farewell ramble that day for teachers and scholars at Union Chapel, before they joined the army. Fred was invited to join the party and that day he met his wife-to-be.
Addie attended Union Chapel in Manchester. The chapel was built in 1842 and the membership was open to all Christians. (The Chapel was bombed during the Second World War and had to be demolished; St. Mary's Hospital now occupies the site). It was on this church ramble that Addie met Fred Aldous.



Adelaide Phyllis Finch Leicester
(Addie / Phyllis)
b. 14 December 1896
London
d. 12 August 1982
Buxton, Derbyshire

Frederick Aldous II
(Fred)
b. 14 November 1889
Manchester
d. 15 September 1972
Buxton. Derbyshire
When Adelaide first met the Aldous family, Fred's sister, Annie, asked her name and when she said "Addie", she was asked if she had another name. So, she said "Phyllis" and Annie said that they would call her Phyllis and the Aldous family always did. They were more "posh" than the Finch Leicester family.
Adelaide Phyllis Aldous married Lieutenant Frederick Aldous on 14th September 1918 at Union Chapel, Oxford Road, Manchester when she was 21 and Fred was 28. The pastor was Rev JE Roberts (5 Oct 1866 - 25 Jan 1929). Their reception was at the Midland Hotel in Manchester.
Addie's oldest sister, Lily, and husband, Vern, sent a telegram saying:
"Congratulations and very best wishes".

Addie's sister, Effie, sent a telegram from Putney:
"Wishing you both every happiness. Best of luck."

Addie's brother, Fred, sent a telegram.

Ewart McKellan (who was later to marry Fred's sister Carrie)
sent a telegram saying:
"Congratulations and very best wishes."

"Heartiest congratulations from all at 64 Barton Street" from Hurman.

A telegram from Blackpool came from Percy and Cilla:
"Hearty congratulations and best wishes."

They went to Grange-over-Sands for their honeymoon.

Addie and Fred lived with Fred's family at Edale, Victoria Park, Manchester, for a short time after their marriage. They soon moved in 1919 into their own home in Manchester.

Their first child, Freda was born 23rd May 1919, when Addie was twenty two. Freda was the first of seven children born over nineteen years (from 1919 to 1938) and Rosalind was their last child. They had three girls and four boys; Freda, John (Jack), David, Alan, Christopher (Chris), Dorothy, (Dot), Rosalind (Ros).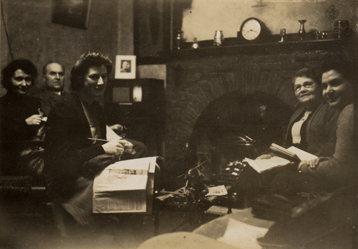 Addie, Fred, Joan, Lily, Freda in living room
at Oaklands
Fred and Addie lived in nine homes together. They always lived in big homes. In 1919, they lived on Carson Road, Levenshulme, Manchester, where their first child, Freda was born. In 1921, they moved to Woodbourne Road, New Mills. Jack was born this same year. David was born here in 1922 and then Alan in 1924. The six of them moved to Ashworth House, Chapel-en-le-Frith in 1925. Chris was born in 1927 and Dot was born in 1930. They lived at "Craigmore" on Robertson Road, Buxton from 1936. In 1938, the Aldous family moved to 7 Spencer Road, Buxton. Rosalind was born in 1938. In 1942, they moved to Oaklands, 42 Hockerley Lane, Whaley Bridge. All the Aldous children married from Oaklands except Rosalind. Sixteen years later, in June 1958, they moved to 17A Broadwalk, Buxton. In 1962, they lived at The Beeches, 1 Park Road, Buxton and then they moved to their last home in 1965, which was 2 Limehurst, 5 Manchester Road, Buxton. Rosalind was married from Limehurst.

:: ALDOUS FAMILY HOMES ::
Fred worked at Fred Aldous Ltd., the family business his father had established. He always worked very hard and business was his life. When he was asked what he would do when he retired, Fred said "die", meaning that he would always be involved in the business. He took the train into Manchester. The firm Fred Aldous started out at Elbow Street, Manchester, from 1986-1943. Over the years, the company moved around to different locations in Manchester. In 1929, the firm moved to Marsden Square. Thomas Street was rented during the years 1929-1936. They bought Nicolas Croft in 1936. They sold Elbow Street in 1943 and sold Nicolas Croft in 1950. Withy Grove was bought in 1950. In August 1963, the firm moved to 31 Back Piccadilly. In August 1967, Fred Aldous Ltd. moved to 37 Lever Street.


:: HISTORY OF FRED ALDOUS LTD BY FRED ALDOUS II::
In 1942, they celebrated their silver wedding anniversary. The family bought a wonderful silver tea set for them; a teapot, sugar bowl and creamer jug.

| | |
| --- | --- |
| | |
| Silver Anniversary card to Addie and Fred | |

:: FRED & ADDIE'S SILVER WEDDING ANNIVERSARY::
Fred loved to tell jokes and he would tell his favourite jokes often. He also had sayings for particular situations, such as:
On New Year's Eve, Fred always asked his family to "look out for the man with as many noses as there are days in the year."
When the family went to the theatre and the person selling tickets at the box office said, "Five shillings for the dress circle, three shillings for front stalls, and six pence for the programs", Fred would ask to go in the programs!

In a restaurant, he would often call a waitress "Ermintrude".

If something wasn't true, he'd say it was "tripe and onions".
When Fred went to the hairdressers, he used to think that half a crown (two shillings and six pence, the equivalent of 22.5p nowadays) was too much to pay to have his hair cut and he said they were charging him for finding it! Fred was forty-nine when his youngest child, Ros, was born and she only knew him when he was bald.
Fred always used a pocket watch. He usually wore a three-piece suit for work. He wore trilby hats and a mac and often carried an umbrella, and sometimes a walking stick.

In 1968, Fred and Addie celebrated their golden wedding anniversary. The family bought them two gold arm chairs. There was a gathering at Freda and Sam's home in Kettleshume in the afternoon of 14th Seotember 1968.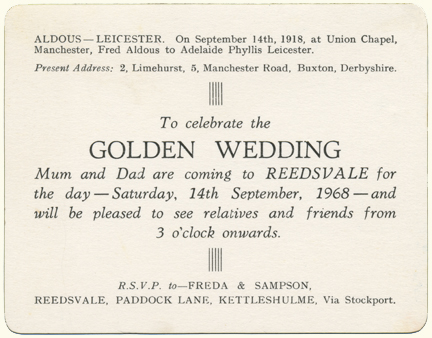 Auntie Freda's invitation
Fred and Addie had their last holiday together in Grange-over-Sands in 1972. It was where they had spent their honeymoon.

Fred and Addie were married for 54 years.