Dorothy Margaret Aldous was born 26th September 1930 in Buxton, the sixth child and second daughter of Addie and Fred Aldous. She was called Dorothy by her mother but mostly she was called Dot by the family.
Until she was almost six, Dot lived in Chapel en le Frith, at Ashworth House on Long Lane. Dot attended Miss Pink's nursery school.

In 1936, the family moved to Buxton and lived at Craigmore, Robertson Road, for about eighteen months. Then they brought 7 Spencer Road which was a fine, three-storey, stone, semi-detached house. Dot remembers she spent a great deal of her time on the swing in the back garden.

She went to the PNEU School on College Road, which she loved.
It was 1942 when Dot and her brother Chris were to go to New Zealand to stay for the rest of the war with their relations. However, plans were changed at the last minute. Instead, Dot was to go to the Society of Friends School, Ackworth. Chris had already been there for a year. So in Septembe, (while they were still living in Buxton), Dot went in a taxi with Chris, and two neighbor boys, to boarding school and her new life began.

Dot left school in 1947, at age sixteen, having gained her School Certificate in Music, History, Geography, English Language, English Literature, Biology, and Domestic Science.

Dot went to the College of Commerce in Manchester in 1947 and completed a two-year diploma course in Business and Secretarial Studies.

Subsequently, Dot worked for four years for her brother, Jack, as his secretary at Atlas Handicrafts (the wholesale side of the family craft business). Jack's secretary, Irene, had left and he needed a replacement.

Dorothy met Peter Milner when they were both in the Buxton Opera Group. Peter was in the orchestra and Dot was on the stage for "Merry England" and "The Gondaliers" in 1953. Peter had his eye on this lovely looking lady on the stage. They saw each other at dances from time to time.

Peter was born 9th October 1934 in Beoley Hall (pronounced Bewley), Redditch, Worcestershire to Cecil Milner and Annie Langthorne. It was in Redditch where his mother was a housekeeper and his dad was a butler. They soon moved away from here. Cecil was a butler in Disley, and after the war, the family moved to Buxton where they owned a shop in the High Street.
Dot and Peter both took the 5.40pm train home from Manchester after work. Dot was working for Atlas Handicrafts and Peter was working for Dunlop. It was a forty-minute train ride which they spent together later on in their relationship. Dot got off at Whaley Bridge and Peter got off at Buxton. It was on the train that Peter asked Dot to marry him. They got engaged 1st September 1956.
Peter Milner
b. 9 October 1934
Buxton, Derbyshire

Dorothy Margaret Aldous (Dot)
b. 26 September 1930
Buxton, Derbyshire

Dorothy and Peter Milner married at Taxal Church in Whaley Bridge on 9th March 1957. The reception was at the Jodrell Arms in Whaley Bridge, just by the station. They went to Paris for their honeymoon for a week.

They first lived in the three floors over Mannings children's clothing shop at 5, The Market Place in Buxton. Dot worked at Atlas Handicrafts until three months before the birth of their first child in 10th October 1958, Nicholas Peter Milner.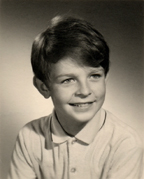 Nicholas Peter Milner (Nick)
b. 10 October 1958
Buxton, Derbyshire


Peter got a better job at an independent rubber company BTR, in Burton-on-Trent in 1960. So, the family moved to Burton-on-Trent. Their second child was born while they were living here. Catherine Margaret Ann Milner was born on 28th August 1961.


In 1969, Peter was appointed the chief rubber technologist for Goodyear in Paris doing technical service. Dot and Peter and their young family moved to France in 1969. Nick was eleven and Catie was eight years old.
From 1969 to 1973, they lived on Route Thierry in an apartment block called Sylvabelle, in Ville d' Avray, France. The apartment was opposite chestnut trees.
Dorothy
In 1973, the Milner family moved nearby to Le Monastére, a block of flats, also in Ville d' Avray, where they stayed for seven years.
In their early days in France, Dot and Peter bought a country cottage in Sainte Marguerite de Viette, Livarot, Normandy. When the children were young, the family would often spend weekends and a portion of the summer holidays at their holiday home.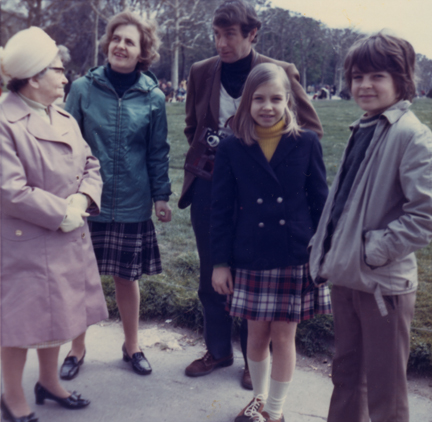 Addie Aldous, Dot, Peter, Catie and Nick Milner
at Eiffel Tower, Paris in 1970s
In 1980, they bought their house in Buc (nearer to Versailles). They lived there for twelve years. It was opposite a supermarket. It had a small kitchen on the left as you came in the front door, and the dining area and living room led out to a lovely little garden.
In 1992, they moved to their present home at Senlisse. Dot and Peter bought a beautiful house in the country with a lovely view and woods behind.

Dorothy and Peter are both musical. Dot is now in a choir in St Remy-les-Chevreuse. She plays the piano and the clavichord. Peter plays the violin and is in an orchestra in Versailles.

Peter retired in 1999 after working for Goodyear for thirty years. During this time, Peter had moved from doing tech service to Marketing Manager for Goodyear chemicals. He was then Technical Director in Europe, and then worldwide. He took business trips all over the world including Russia, India, Singapore, China, Malasia, and throughout Europe and America.

Since retirement, Peter and Dot travelled to Sydney for the Olympic Games in 2000 and visited family in New Zealand and Australia.

Dot and Peter enjoy art museums, concerts, gardening, holidays abroad (particularly with their family). They love being grandparents and travel to New Jersey and to Harpenden to spend time with their five grandchildren and family.